Overview
Most groups add a donate or register link from their main web site to a contribution or event page on PowerBase so people browsing their sites can easily make a donation or register for an event.
This experience, however, can be jarring for the user - since they think they are staying on your web site, but suddenly the colors and images are different.
You can solve this problem by asking PTP to create a custom theme for you. If you have partner level support, we can create a theme that mimics the look and feel of your web site, so most users won't even know they went to a different site to make their donation or register for an event.
An example of PTP's custom theme: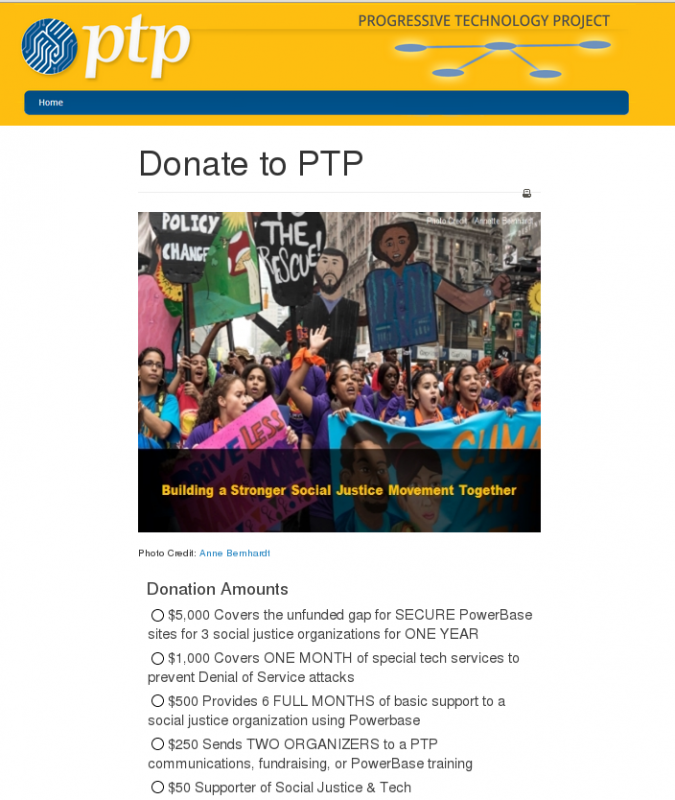 Can I make my own theme?
If you have experience with Drupal and theming, you are welcome to make your own. Just design the theme to work with Drupal 7 and fully test the theme in a development environment. You can test the theme using a generic installation of CiviCRM - there is no need to have a copy of your actual database. Once you are done, email us the theme files (or a link to a git repository) and we will put them in place. If you have partner level support, you can send us changes as often as you like.
Can I have direct access to the server to update the theme?
No. Unfortunately, we cannot provide direct access to the server for security reasons. We only allow server access from PTP staff people. This security restriction helps keep your data private.
Can I have more than one custom theme?
Yes, absolutely, You can even automatically choose your themes based on the page being viewed.