Introduction
This document explains how to add a new user or block an existing user from your PowerBase.
You have to be a PowerBase Administrator to do this. If you don't have anyone on staff who is a PowerBase Administrator, please have your Executive Director contact PowerBase support via email (support@progressivetech.org) and authorize us to make someone on your staff a PowerBase Administrator.
When you are logged in, click on the Home link if you are not already on the Home page.
Add user
If your Powerbase has the "New Look" (after the April 2020 upgrade), then
Click on Administer menu > Drupal Administration: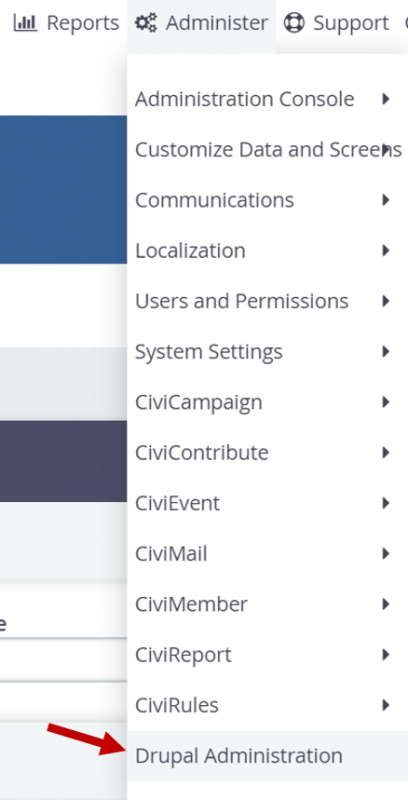 If your Powerbase has the "interim New Look" where you can still see the left side bar, then
Click the Administration link in the left hand sidebar (note - this is different from the Administer link in the top menu).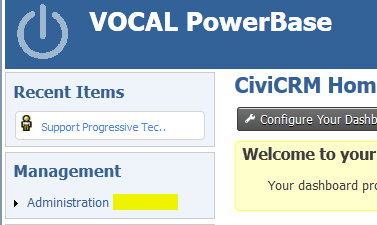 Click the People link under Administration.
Adding a new User account
Click the Add User link at the top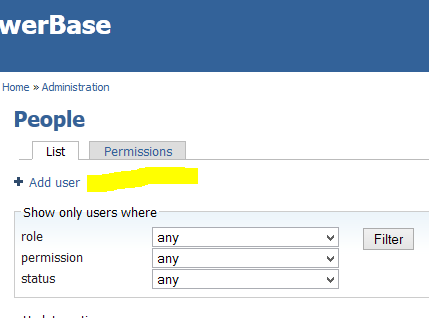 Fill in the form.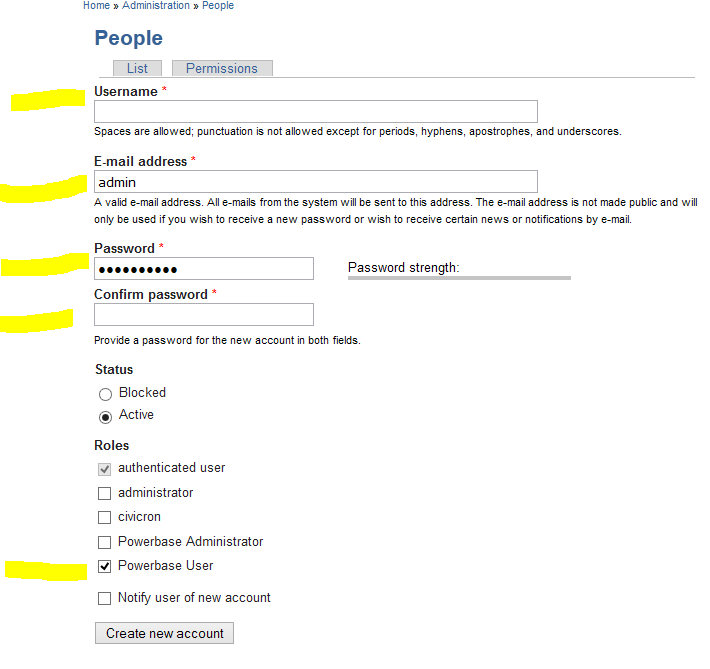 Put in the user name that they will use to log in with. Avoid spaces and capital letters.
Add their Email
Put in a password with numbers and upper and lower case letters - BUT DON'T TELL THEM THE PASSWORD YOU CREATED! Best practice is for individuals to create their own unique password.
Mark them as a PowerBase User or PowerBase Administrator. Don't use the other categories (other than authenticated user which is on by default).
Click Create new account
If you check "Notify user of new account" they will get an email message with a link allowing them to login immediately. Otherwise, let them know the link to Powerbase,
Let them know their username, and then have them click on REQUEST NEW PASSWORD, and then they can create their unique password and SAVE their account.
To get the PowerBase Home screen, click on the HOME link in the upper right.
Editing or deleting a User account record
From the "People" list, you can edit an existing record, by selecting "edit" on the row that the user record is on. From the resulting window, you can change the password, their role, and their time zone.
This is also one of the ways that you can block them or cancel the account. To block them, just change their Status to "blocked" and press the Save button. Blocked users can be changed back to active at any time without losing any data.
If you want to delete the user account record, click the "Cancel account" button.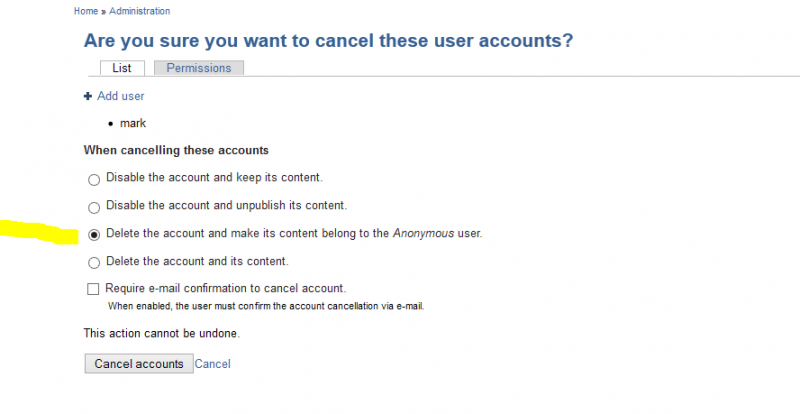 When you get to this page after clicking the "Cancel account" button, select "Delete the account and make its content belong to the Anonymous user."