Submitted by

Jamie McClelland

on March 31, 2017 - 3:30pm
iATS
These notes are taken from iATS documentation and modified for PowerBase users. iATS users may also be interested in the iATS portal introduction video to learn more about reports, reconciliation, fraud protection and more.
Create an iATS
Start by filling out their form or calling 1.888.955.5455. Be sure to enter or tell them that you are setting up a payment processor via CiviCRM.
When they complete the setup, they will send you a welcome PDF like the one below.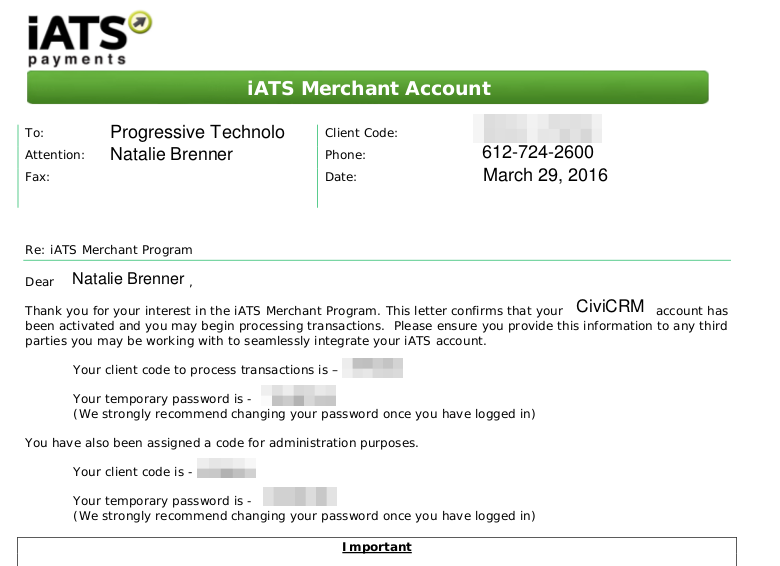 It should include two usernames and passwords.
One of the usernames ends in 01. That is your admin account.
The other one ends in 80 and is referred to as your "client code to process transactions" - that's the one you should use to configure your Payment Processor in PowerBase (see below).
First, login to iATS as the admin user and change your password. Then do the same as the client user and change your password (you may consider a random password generator like http://passwordsgenerator.net/).
Configure PowerBase to use this account
Log into PowerBase as a PowerBase administrator
Select Administer » System Settings » Payment Processors
Select Add Payment Processor
For Payment Processor Type, choose iATS Payment Credit Card
Use a Name like "Credit Card" unless you have multiple payment processors.
Set Financial Acccount as needed for linking to your accounting system (if not sure, use Payment Processor Account).
Enter your agent code and password
The Site URLs should be pre-populated for you. In case they get accidentally changed or deleted, the values should be:
Site URL: https://www.iatspayments.com/NetGate/ProcessLink.asmx?WSDL
Recurring Payments URL: https://www.iatspayments.com/NetGate/ProcessLink.asmx?WSDL
The test settings should be the same except both the user agent and password should be set to: TEST88
Automated Recurring Billing
There is no need to set a web hook or silent post URL for iATS. Instead, be sure that the scheduled job is set:
Administer -> System Settings -> Scheduled Jobs
iATS Payments Recurring Contributions should be enabled and set to Daily.
Testing
Please see our tip sheet on testing
See info using test credit cards for iATS (see under heading "TESTING")